Любительница спорта, фитнеса, активного образа жизни и бикини, Николь Меджиа чуть не стала медсестрой. Но передумала, и выбрала профессию модели. Спасибо тебе, Николь
Николь Меджиа уже в 9 лет попала во флоридскую детскую сборную по плаванию. И пробыла там, пока не окончила среднюю школу. Также красотка преуспевала и в обычной учебе. Результат - окончание колледжа с отличием.
Читай также: Красотка дня: фитнес-модель София Миакова
Затем Николь подалась в мед.училище. Но в конце концов поняла, что это не ее призвание. Поэтому после первого семестра бросила это гиблое дело, и пошла работать моделью.
В одном из интервью барышня призналась:
"Подруге нужна была модель для портфолио. Она мне предложила, а я не отказалась, так как всегда мечтала заниматься чем-то вроде этого".
После сего красотку тут же заметили фотографы, и начали звать на гламурные фотосессии. За этим пошли предложения модельных агентств, брендов женского белья и т.д.
Красотка дня: аппетитная Николь Меджиа

Источник: twitter.com
Читай также: Красотка дня: голливудская супер-актриса Megan Fox
Сегодня Николь Меджиа не только снимается в рекламных кампаниях, но и часто появляется в музыкальных клипах (Verse Simmond's "Boo Thing", Pitbull и Крис Браун "International Love", Kanye West and Jay Z's "Nigga's in Paris"). А еще барышня проводит workout-тренировки в одежде компании "Blue Body Brazil", являясь также лицом их бренда.
В октябре 2013 года Николь запустила свою кампанию "Get Fit and Thick", где она ведет оздоровительный и фитнес-блоги, подписки, доступные занятия по фитнесу, и ее собственный фитнес-класс, который она начала преподавать в Майами.
Кстати, смотри, как тренируется Николь Меджиа:
Читай также: Красотка дня: ливерпульская модель Эбби Клэнси
Модель надеется представить свежий взгляд на фитнес. Она считает, что здоровый образ жизни изменяет тело и жизнь в целом. Именно благодаря этому барышня выглядит аппетитно, сексуально, и всегда привлекает внимание сильной половины населения планеты. Смотри лучшие фото Николь Меджиа: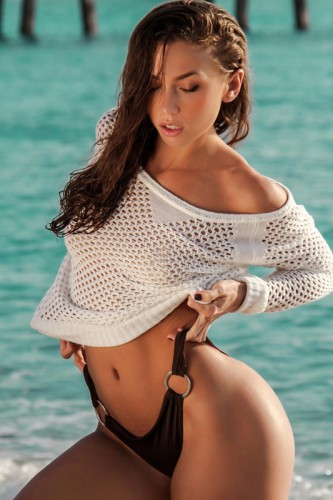 Лучшие фото красотки из Instagram:
Фитнес
З днем народження, Арні: секрети тренувань Шварца
30 июля | 2022